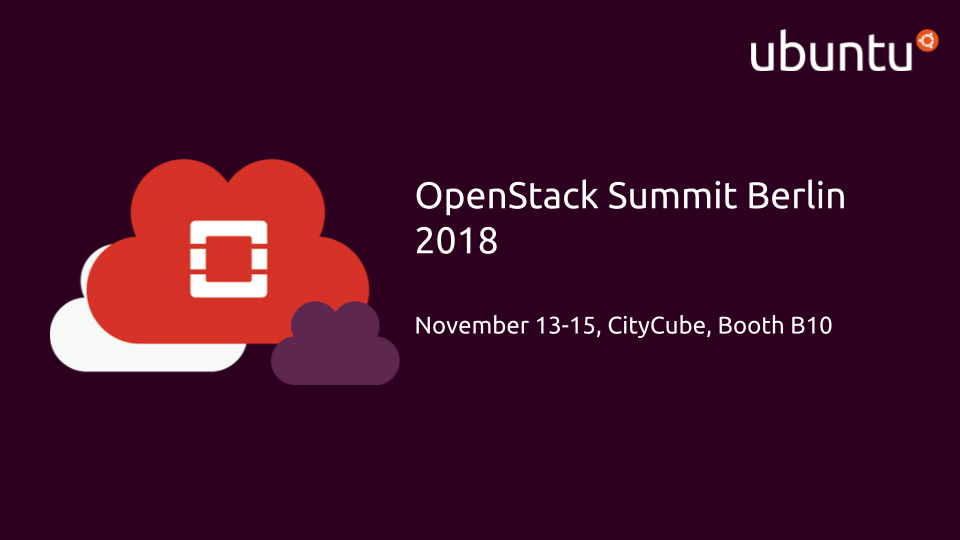 Event Details
Date: November 13 – 15, 2018
Location: Berlin, Germany
Venue: CityCube
Booth: B10
OpenStack Summit Berlin
Canonical, the company behind Ubuntu, is excited to reveal that it will be a headline sponsor at the OpenStack Summit in Berlin.
The OpenStack Summit has proven itself to be the leading event in open infrastructure, bringing together the builders and operators for sessions and workshops on containers, CI/CD, telecom & NFV, public cloud, multi-cloud and much more.
Ubuntu is at the heart of the world's largest OpenStack clouds, in key sectors such as finance, media, retail and telecoms. With Ubuntu the number one platform for OpenStack and public clouds, Canonical is a leader in building and operating multi-clouds.
Canonical provides consulting, training, enterprise support and remote operations, to help enterprises focus on what matters most — their applications, not the infrastructure.
With the move of compute to the edge, and the emergence of new workloads such as artificial intelligence and machine learning, it is more important than ever to be able to build clouds that are capable of adapting to new hardware.
If you're coming to Berlin for the OpenStack Summit, we'd love you to come and visit us at Booth B10, where you can talk to Ubuntu experts about everything from OpenStack to Kubernetes, artificial intelligence and machine learning, multi-cloud and much more.
In addition to a large booth presence, where the team will be more than happy to answer any of your queries, the Ubuntu team at Canonical will also be giving a number of presentations, whilst Mark Shuttleworth, CEO and Founder of Canonical, will be delivering the opening keynote. More details TBC.
Demos
Edge
OpenStack Edge
Openstack w/ K8s
AWS
Machine Learning
Contact us
Want to get in touch with our executive team at OpenStack Summit? Fill out the form below and a representative will get back to you as soon as possible.
The post OpenStack Summit Berlin 2018 appeared first on Ubuntu Blog.